Life before porn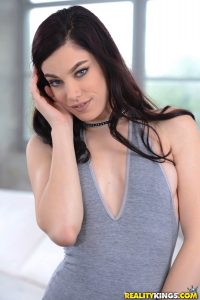 Bobbi Dylan was born on November 29, 1992 in Pennsylvania, USA. She grew in several places on the east coast, mainly in New York and New Jersey, but also spent some time in Philadelphia and Colorado. She had quite mobile childhood, which sort of prepared her with her career in the industry with the constant traveling around USA.When she was sixteen years old she lost her virginity to a guy who was twenty-two. They knew each other for three years and she liked to sleep with him for the first time. Before she lost her virginity she was part of the BDSM community where she learned a few things, but she never actually had real sex with those people.
Porn career
Prior her porn career, Bobbi worked as a model for seven years. Getting into porn wasn't a big deal for her, or a taboo, because she was a girl who experimented a lot (she had threesomes, gang bangs and foursomes before porn). She immediately told her family about her job.Bobbi loves being watched and that's how porn was the ideal job for her. Even before porn, she had an experience where she had sex in the driveway and someone turned the lights on, so pretty much all her friends saw her. Her portfolio contains scenes in genres such as interracial, lesbian, hardcore, toys, teen, anal and massage. Besides porn, Bobbi does webcam shows too.
Personal life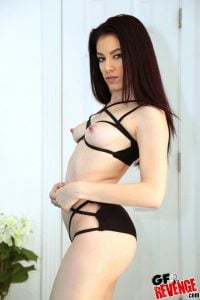 Bobbi has been with both men and women and is both dominant and submissive. She has been in a relationship with a dominant partner. When comes to guys she prefers them to have large penises and to make her sore after the sex, otherwise she wouldn't waste her time with them.In her spare time she likes to hang out at home with with her dogs. She loves playing internet video games, she does craft, watches TV or naps.Bobbi has a few tattoos: on her left shoulder; both of her feet have intricate skulls; one tattoo on her pubic area; NJ behind her ear. She also has a few piercings: on her septum; on her belly button; on her clit hood; on her nose, nipples and on her ears.Bobbi doesn't plan to stay forever in the industry. After a while she would love to retire and do something meaningful for the women in the industry; she would like to work as a manager or talent agent and protect the women from all the unpleasant things that can happen in the industry. She stated that she has been ripped off a few times and it inspired her to work harder and stronger. Bobbi sees herself as a farm owner living in Colorado.
$10 OnlyFans http://TheBobbiDylan.com
Clips4Sale http://AGirlNamedBobbi.com
IWantClips http://IWantBobbi.com